Your HVAC system uses more energy than any of your home's other electrical devices. Its energy consumption is approximately 16 percent a year, which is substantially more than notorious energy vampires such as water heaters and refrigerators. An energy-efficient AC will keep your electrical costs down, help the environment and boost your home's resale value.
What do you do, though, if you can't afford one? The average cost of a new energy-efficient central air system is $4,500-$8,500. Luckily, there are many financing options available to help you upgrade to an energy efficient AC.
1. In-House Financing
Many companies that sell and install HVACs also provide their own in-house financing. They do this by uniting with an outside lender. Depending on your income and credit score, you may be eligible for a promotional 0 percent APR interest loan for 60 months.
However, keep in mind that the length of the 0 percent APR varies from company to company. Find out how long this special interest rate will last and what the new rate will be when it expires.
Also, it's important to understand whether you'll be incurring deferred interest after the promotion ends. Deferred interest means that you'll be paying interest on the remaining balance, along with all of the interest for the special financing term.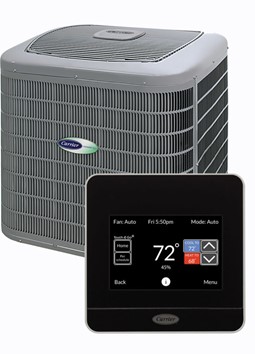 2. Home Equity Loan
A home equity loan (also called a second mortgage) is a fixed-rate installment loan that uses your home as collateral. Equity is the difference between what you owe on your home and what it's worth. This type of loan usually runs for up to 30 years.
One of the advantages of a home equity loan is that you'll receive the money up front, in one lump sum. This loan is repaid with fixed monthly installments over the life of the loan (as you do with your primary mortgage).
Another advantage is that you'll receive a tax deduction for the interest you pay on the loan.
Like a traditional mortgage, a home equity loan may have fees including:
Document preparation fees
Loan processing or origination fees
Application fees
Underwriting fees
Lender fees
Recording fees
In order to qualify for this loan, you must:
Have a debt-to-income ratio of 43 percent or less.
Have a credit score of at least 620.
Have at least 15 to 20 percent home equity.
However, the stakes can be high with a home equity loan. If you're unable to repay the loan, or you fall behind in your payments, you risk losing your home to foreclosure. You'll also have to pay off the loan fully and immediately if you sell your house.
3. Personal (Unsecured) Loan
A personal loan is another alternative for financing the installation of an energy efficient AC. One advantage is that you can obtain a lump sum up to $50,000 if you need an immediate cash infusion. Personal loans have fixed interest rates and are generally repaid in 12 to 60 months. This type of loan is unsecured, so you may have to pay higher interest rates in lieu of collateral.
Keep in mind that you may have to pay an up-front origination fee totaling up to 8 percent of your entire loan. An origination fee is charged for processing your loan application.
4. Credit Card
You can finance your new energy efficient AC on a credit card if you qualify for one with a 0 percent APR. Make sure to find out the percentage rate's expiration date so you don't get any unexpected surprises.
Some cards also charge deferred interest, but financing your new AC on a credit card may work if you're certain you'll be able to pay the entire balance before the special rate lapses. If you have poor credit, you may end up with a low credit limit and have to spread your financing among more than one lender.
5. FHA PowerSaver Loan
The Federal Housing Administration (FHA) offers loans up to $25,000 for energy-efficient, environmentally friendly home retrofits, including HVAC upgrades. The terms of the loan are up to 20 years, and it's unsecured, so a home appraisal is unnecessary. A second line of equity is automatically provided for loans of more than $7,500, and the mortgage rate is between 4.99 percent and 7.75 percent. This is less than the rates of some other financing alternatives.
In order to qualify for this loan you must have:
A minimum credit score of 660.
Maximum combined loan-to-value of 100 percent.
Maximum debt-to-income ratio of 45 percent.
You cannot have:
A second lien.
A second mortgage.
An existing home equity loan.
If you're thinking of going green, upgrading to an energy-efficient AC is a great place to start. However, you may be wondering how you'll handle such a significant expense. Progressive Air Systems offers financing that can help you affordably pay for a new AC. Contact us today and we'll work with you to find the best payment plan for your air conditioning needs!