The New Infinity Series Touch Control
The unrivaled capabilities of the Infinity control represent the highest degree of comfort management. This communicating control is designed exclusively for the Infinity system products and is the brains behind the ultra-efficient Greenspeed™ intelligence systems. What's more, techno lovers will rejoice over the Infinity control's energy management and remote access features.
All Infinity Touch Control systems include:
4-wire installation from each component in the system
Intuitive on-screen prompts for ease of installation and service
IdealHumidity™ settings are the default, no longer requiring increased system setup
Complete integration of temperature, humidity, and ventilation in every season
TrueSense™ dirty filter detection
Indoor air quality pop-up reminders
7-day programmability with 2 or 4 periods per day
Touch-N-Go® feature for easy schedule override
Simplified vacation schedules
Intuitive Lifestyle-based programming for simplified ease of use
Programmable fan by period
General maintenance reminder messaging
CÔR® 5C WI-FI® THERMOSTAT
7-day programmable with fixed segment screen
Programmable scheduling allows you to easily customize settings for times when you're home, sleeping or away. You can operate your system even when you aren't there because this Wi-Fi device can be controlled via the free mobile app. This wall-mounted, low-voltage unit is 7-day, 5/2-day and 1-day programmable. There's no need for batteries to store settings. During power loss, its internal memory saves your preferences for an unlimited time with a clock that continues to run for at least 24 hours.
Remote access via Internet for smartphone or tablet devices
Free iOS and Android™ apps
Amazon™ Alexa™ compatible
Weather display
Fixed segment screen
Connected Contractor Portal allows remote system diagnostics
CÔR™ WIFI Thermostat
The heart of a smarter home.
Your heating and cooling system is where you spend most of your energy dollars so saving on your utilities is important. The innovative Côr thermostat is designed to combine home comfort with reduced energy use; homeowners saved an average of 20% on their heating and cooling energy costs.  It's what we call the heart of a smarter home.
Wi-Fi® enabled for remote access via Internet with Apple® or AndroidTM smartphone and tablet devices
Designed to save energy with smart setback and energy reporting features
Wide range of HVAC system and brand compatibility
Humidity sensing, 7-day programmable with Touch-N-Go® feature
Zoning panel compatible
Comfort™ Programmable Thermostat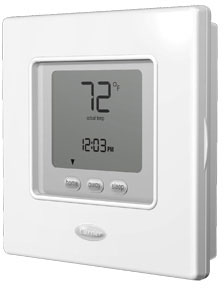 Basic programmable thermostat with easy-to-read LCD screen
Carrier's Comfort Programmable Thermostat provides enhanced control capability for maximum performance, reliability and indoor comfort. The sleek, contemporary design fits with any home décor.
5-day, 2 day part programming
Functional, square design
Auto changeover
Touch 'N' Go™ programming
On-screen heat and cool indicators
Large, easy-to-read backlit LCD screen
System or battery powered operation
10-year parts limited warranty when properly registered
Comfort™ Non-programmable Large Screen Thermostat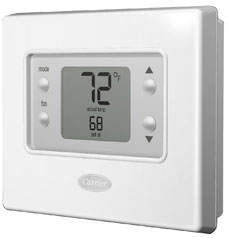 Maximize efficiency, comfort with programmable thermostat
The Comfort™ Non-Programmable Small Screen Thermostat gives you control of a digital thermostat in a simple, easy-to-use control.
Easy-to-read display
Auto changeover
Set point limiting
Keypad lockout
Backlit LCD screen
Mercury-free
10-year parts limited warranty when properly registered
Comfort™ Non-programmable Small Screen Thermostat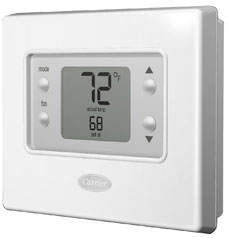 Easy-to-use non-programmable comfort control
Auto changeover
Set point limiting
Keypad lockout
On-screen heat/cool indicators
10-year parts limited warranty when properly registered
Comfort™ 3-Zone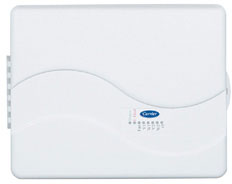 Control comfort separately for 3 areas in your home
Control up to 3 distinct zones
Compatible with any Carrier programmable thermostat control
Control up to 5 dampers in each zone
Dampers will modulate in emergency situations
10-year parts limited warranty when properly registered